Series 2010
Computerized Automotive Gas Divider
The Environics® Series 2010 Computerized Automotive Gas Divider is an advanced microprocessor controlled instrument for the dynamic calibration of automotive or mobile source emissions analyzers.
Download Full Data Sheet for Series 2010 (pdf)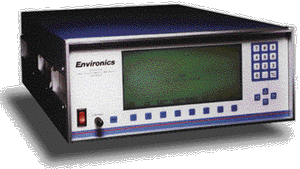 The Series 2010 automatically performs standard ten-step dilutions of all calibration gases in accordance with U.S. Environmental Protection Agency protocols. The 2010 may also be used to generate calibration standards in user specified concentrations (%, ppm or ppb) by dynamic dilution of higher concentration source cylinders.
This system stands out from competitors in its ability to generate infinitely varied concentrations within the operating range of the instrument, protecting your investment and giving you the needed flexibility should standards change.
The mixes are highly repeatable and unlike many dividers, the Environics system is accurate to +/-1% of setpoint.
The Series 2010 consists of a single chassis supporting three thermal mass flow controllers, a serpentine pre-mix zone and a zero dead space final mixing zone. All gas wetted surfaces are electropolished stainless steel, and seals are gas compatible elastomers. The instruments mass flow controllers are factory calibrated using a primary flow standard traceable to the United States National Institute of Standards and Technology (NIST).
Commands are entered from the front panel and displayed on a back-lit 25 x 80 character LCD display. Calibration sequences are stored in the internal microprocessor memory for recall by the keypad, optional RS-232 communication or optional status interface.
The Series 2010 is available in either a bench top or an optional 19" rack mount chassis.
---
PRODUCT FEATURES AND BENEFITS
Automated 10 step divide mode which allows user to specify divide points, dwell time and sequence provides operational flexibility and saves technician time.
3 mass flow controller design which allows the user to go as low as a 1% step (% of cylinder gas concentration) with no loss of accuracy. The user can generate a wider range of standards with each cylinder thus saving on gas costs.
Optional RS-232 Serial Data Interface and status outputs permit integration with existing and future automotive emissions test benches.
Gas mixing on a mass flow basis eliminates complicated pressure controls and inaccuracies due to critical orifice erosion and temperature variations.
Internally-stored mass flow controller calibration data improves accuracy by as much as a factor of ten and simplifies field recalibration.
Optional ozone generator and gas phase titration module allows the user to automatically check NOX converter efficiency without investing in a second instrument.
---
SOFTWARE
The Series 2010 has six primary software routines.
Divide Mode: Allows the user to operate the instrument as a computerized ten step gas divider.
Concentration Mode: User enters target output gas concentration for the span gas. The actual concentration is displayed during mixing.
Automatic Sequencer: Permits unattended automatic operation of the instrument on a programmable seven day schedule.
Flow Mode: User enters target flow rate for each component gas. Actual flow rates are displayed after mixing is initiated.
Maintain Ports: User enters the name of the component gas in the source cylinder, its concentration and the port to which it is connected.
Purge Mode: Purge component gas circuits and mixing zone.
---
SPECIFICATIONS
Performance (as a percent of setpoint)
Accuracy
From 10 to 100% of Full Scale Flow
Concentration: ± 1.0%
Flow: ± 1.0%
Repeatability: 0.05%
NOTE: Mass flow controllers are calibrated using a NIST Traceable Primary Flow Standard,
using a reference temperature of 0°C (32°F) and a reference pressure of 760 mm Hg (29.92 in. Hg).
Ozone Generator/GPT Module (optional)
Ozone Concentration Range: 250-500 ppm at 1 slpm (using pure 02 as source gas)
Mechanical
Inlets
Dilution: External 1/4" SwagelokTM
Span(s): External 1/4" SwagelokTM
Ozone source gas: External 1/4" SwagelokTM

Outlet: External 1/4" SwagelokTM
Operating Pressures
Minimum: 10 psig (0.67 Bar)
Recommended: 25 psig (1.68 Bar)
Maximum: 75 psig (5.04 Bar)
Wetted Surfaces
Tubing: Electropolished 316L Stainless Steel
MFC's: Stainless Steel
Seals: Viton®
Operating temperature: 32° - 122° F (0° - 50° C)
Performance temperature: 59° - 95° F (15° - 35° C)
Weight
Minimum: 16 Kg (35 lbs)
Maximum: 32 Kg (70 lbs)
Dimensions (w x h x d)
Portable: 17" x 7" x 23.5"
(43.18 cm x 17.78 cm x 59.69 cm)

Rack: 19" x 7" x 23.5"
(48.26 cm x 17.78 cm x 59.69 cm)
Electrical
Standard: 115 VAC (100 to 130 VAC), 50/60 Hz
Optional: 220 VAC (200 to 260 VAC), 50/60 Hz
Current: 3 Amps (maximum)
Electronics
Inmos T 400 series, 32 bit processor
12 bit A/D and D/A conversion
Operating Modes
Front panel membrane keypad
Internal timer control
RS-232 terminal mode / Remote computer control (optional)
Status board interface (optional)
Other communications options available
Data Output
Optional RS-232 serial port / Parallel printer port interface
---
OPTIONS
RS-232 / Parallel Port Interface
Ozone Generator / GPT module
Status Board
Extra Gas Inlets (limit 6)
Solenoid Valve on Output
Humidification
Pressurization
Viton® is a registered trademark of Dupont Dow Elastomers