Yesterday at EPA Headquarters, the President's Environmental Protection Agency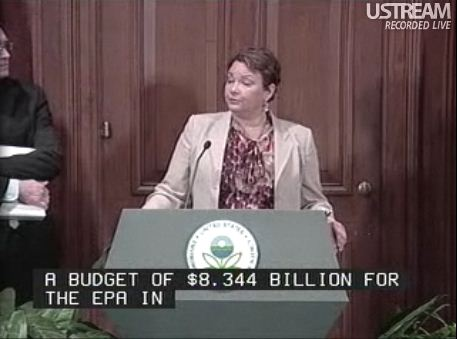 (EPA) FY 2013 budget request was announced by Administrator Lisa Jackson and her senior staff. The proposal allocates $8.344 billion, with is a reduction of $105 million from the approved FY 2012 budget. Elimination of completed programs and consolidation of others accounts for $50 million of that reduction.
In reaction to the proposal, EPA Administrator Lisa Jackson echoed the President's message of "an America built to last." Jackson said, "This budget is focused on fulfilling EPA's core mission to protect health and the environment for millions of American families. It demonstrates fiscal responsibility, while still supporting clean air, healthy waters and innovative safeguards that are essential to an America built to last."
The EPA calls out eight key areas in the FY2013 proposed budget:
Support of States through grants to allow implementation of front line projects under the Clean Air and Clean Water Acts ($1.2 billion, an increase over FY 2012)
Protecting America's Waters primarily through funding of wastewater and drinking water programs as well as infrastructure projects including green projects ($2 billion)
Contaminated Site Clean-up through funding of the Superfund Cleanup programs (both emergent and remedial), and will focus on compliance ($755 million)
Research and Innovation in the Science and Technology in a wide variety of arenas ($807 million)
Continued Support of "Economically and Environmentally Vital Water Bodies," including the Great Lakes and Chesapeake Bay ($373 million)
Harmful Chemical assessment and risk reduction ($68 million, an increase of $11 million over FY 2012)
"Next Generation Compliance," which focuses on electronic reporting, data collection and monitoring, with a goal of cost savings, improved compliance and transparency ($36 million)
National Fuel Economy and Greenhouse Gas Standards program funding to research new biofuel and renewable technologies and for compliance and certification of fuel economy and emissions, all with the goal of reducing dependence on oil ($102 million, a $10 million increase over FY 2012)
Jackson reviewed the EPA will continue to streamline so that while working with less, they can maintain the commitment to the EPA's core goals.
You can view the announcement on the EPA's site, including a brief Q&A, or read more here.
Image – Still from EPA Announcement: http://www.ustream.tv/recorded/20429324