A recent article on the quality of the air in China began with this frighening statistic: Outdoor air pollution contributed to 1.2 million premature deaths in China in 2010, nearly 40 percent of the global total. Brought into the headlines during the Beijing Olympics, the poor quality of the air in China is nothing new.

http://en.wikipedia.org/wiki/File:Beijing_smog_comparison_August_2005.png
In February 2012, the China State Council passed ambient air quality standards, GB 3095-2012. The goal of these improved standards is to improve both the environment and the health of those living there. with the aim of improving the living environment and protecting human health. For the first time, particulates with a diameter of 2.5 microns or less, also known as PM2.5, is included in the standards. PM2.5 are the smallest particulate matter and penetrate the body's tissues most deeply. Once inhaled, the particles may cause respiratory infections and are especially dangerous for children and the elderly, as well as those with existing respiratoy issues. Ozone levels are also set in the standard with the new 8 hour ozone standards matching the interim targets set by the World Health Organization (WHO).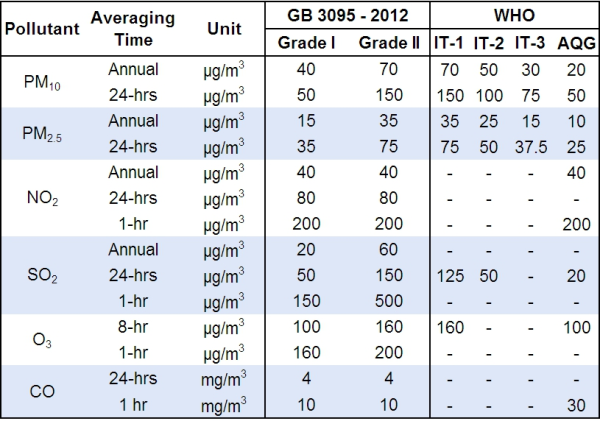 http://cleanairinitiative.org/
For years, Chinese officials had been collecting the data but failed to release it publically. The US embassy in Beijing posts automated air quality measurements on an hourly basis at @beijingair. Last June, there was debate over the accuracy of the readings due to large disparagies between the readings by Chinese officials and the embassy. Chinese authorities asked that they and other stop publishing, what they described as "inaccurate and unlawful" data.
By early this year, many news reports emerged that the air quality in Beijing has reached hazard ous levels. With 100 being the maximum "safe" level and 300 being a level at which those at risk should remain indoors, reports in Beijing ranged from 400-800 micrograms.
The timeline for implementing the new standards is January 2016. Some cities may be required to implement the changes ahead of this date, as determined by Ministry of Environmental Protection. Overall, provinces are being encouraged to implement the new standards as soon as they are ready.