In a recent speech, U.S. Secretary of State John Kerry stated that climate change is one of the most serious issues facing our world today and that he considers it "the greatest challenge of our generation." Following his visit to China last week, Kerry focused back on the State of the Union address by U.S. President Barack Obama, stating climate change is an undeniable fact. China, the top producer of greenhouse gas emissions, and the US will share "information and policies so that we can help develop plans to deal with the U.N. climate change negotiation that takes place in Paris next year."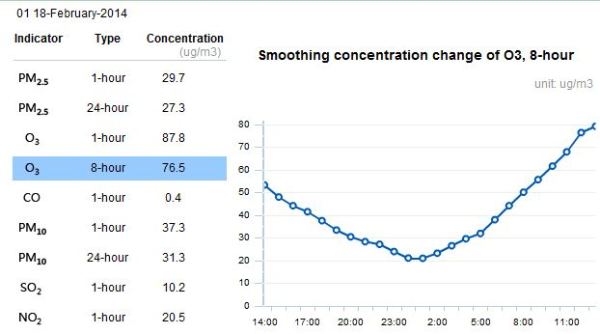 The condition of the air in China has long been a source of concern, brought to the forefront during the Olympic games in Beijing in 2008. According to the World Health Organization, approximately 65%-70% of China's energy sources comes from coal and China is second only to the United States as an energy producer. The Chinese government revised air quality standards which will progressively require cities to meet the restrictions by 2015. The standard includes 8-hour standards for ambient air monitoring of ozone (O3) and particulate matter (PM) 2.5, which are considered "fine" particulates that are the most harmful. As of 2013, two thirds of cities do not yet conform to the new standard. Studies by the WHO and others show that a million Chinese die every year due to the effects of interior and exterior air pollution.
In response to the lack of willingness of the Chinese government to share detailed information, the U.S. embassy in Beijing began posting air quality measurements gathered at the embassy in real time, both on its website and through a twitter account (@BeijingAir). Chinese officials had disputed the American data, however Chinese citizens and environmental groups continued to press for data to be gathered and shared. Environmental Protection Agency Administrator Gina McCarthy visited one of the most affected cities, Shanghai, back in December. China is looking for help as the heavy pollution threatens to turn away foreign investors. McCarthy discussed shale development and the use of natural gas to reduce pollutants.
It appears that the concern of the long term effects on not addressing pollution is beginning to instigate change. Just this month, Beijing has ordered 15,000 factories to begin providing data regarding their emissions to the public in real-time. Also, China's Cabinet announced $1.6 billion in incentives has been set aside for companies that are making strides to cut their emissions. At the same time, the official Xinhua News Agency said 300 polluting factories were slated to be shut down in Beijing during 2014.
Although these are excellent first steps, it will take international collaboration to clear the air because pollution wafts in from the surrounding regions.
To learn more, check out the WHO's site on China and the US EPA Collaboration with China
image source: Shanghai Rela Time Air Quality (2/17/2014 1:55 PM EST), http://www.semc.gov.cn/aqi/home/English.aspx